Default Deductions
Once the Payment and Deduction files have been set up then the default rate to attach to each Payment and Deduction type must be set up BY EMPLOYEE.
DEFAULT DEDUCTIONS
To access this utility go to Employees > Feature Payroll> Payment/Deduction Setup>
Allocate unit amount for each deduction type


This is the static rate/figure which does not change from pay period to pay period. The payroll operator will simply enter the appropriate periodic multiplier to be applied to this rate when processing payroll. For example if the Deduction is for VHI then the periodical deduction will be entered as the Default Deduction, the payroll operator would then simply enter the number of deductions to make be it one for one week or two in the case of a holiday week.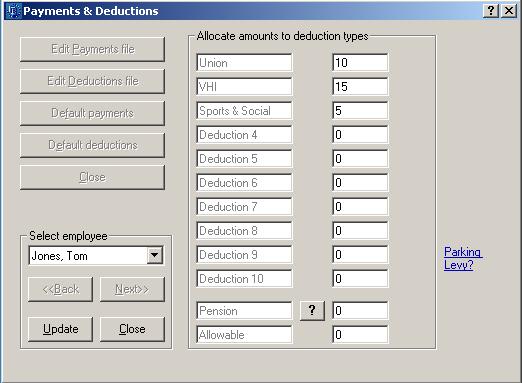 Should a rate need to be changed due to an increase in deduction etc the payroll operator can simply revisit this menu and change the Default Deduction so that the new rate will apply from the subsequent pay period.