2021 Budget - Employer Summary
Pay As You Earn (PAYE)


There are no changes to tax rates for 2021, the standard rate will remain at 20% and the higher rate at 40%.


In addition, there is no change to Standard Rate Cut Off Points (SRCOPs).


Earned Income Tax Credit


The Earned Income Tax Credit will be increased by €150 from €1,500 to €1,650 to bring it in line with the PAYE tax credit.


Dependent Relative Tax Credit


The Dependent Relative Tax Credit will be increased by €175 from €70 to €245 to support families with caring responsibilities.


Universal Social Charge (USC)


Exemption threshold remains at €13,000


2% threshold increased by €203 from €20,484 to €20,687


Due to the increase to the 2% threshold, the income chargeable at 4.5% reduces from €49,560 to €49,357


There are no changes to the rates of USC


For 2021, USC will apply at the following rates for those earning in excess of €13,000: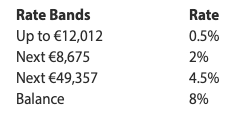 Medical card holders and individuals aged 70 years and older whose aggregate income does not exceed €60,000 will pay a maximum rate of 2%.


The emergency rate of USC remains at 8%.


Non-PAYE income in excess of €100,000 is subject to USC at 11%.


National Minimum Wage


The National Minimum Wage will increase by 10 cent from €10.10 to €10.20 per hour from January 1st 2021.


Pay Related Social Insurance (PRSI)


The weekly threshold for the higher rate of employer PRSI will increase to €398 from €395, this is in line with the increase in the National Minimum Wage.


State Pension Age


The age to qualify for the State Pension will remain at 66 for 2021, it was due to increase to 67.


Illness Benefit
The 'waiting days' for Illness Benefit will reduce from 6 days to 3 days for all new claims from the end of February 2021.


Parent's Leave

Parent's Benefit has been increased by three weeks, this brings it up to five weeks. The leave must be taken during the first year following the birth of a child.


Wage Subsidy Scheme

The Employment Wage Subsidy Scheme (EWSS) is due to continue until 31st March 2021.



VAT
The 13.5% rate of VAT for the tourism and hospitality sector will be reduced to 9% from November 1st 2020, the reduced rate will remain in place until December 31st 2021.
There are no changes to tax credits, cut off points or the rates of PAYE


There are no changes to the rates of Universal Social Charge (USC)


The Earned Income Tax Credit will increase by €150 to €1,500


The Home Carer Tax Credit will increase by €100 to €1,600


Benefit In Kind will remain as 0% on electric vehicles provided by an employer to an employee until 2022



MINIMUM WAGE INCREASE - 1st FEBRUARY 2020:


The National Minimum wage will increase from €9.80 to €10.10 from 1st February 2020.


Employers should also note that the minimum wage for younger workers will also increase as follows:


Aged 19: €9.09


Aged 18: €8.08


Under 18: €7.07
PRSI:
The National Training Levy which is collected as part of Employer PRSI increases by 0.1% from 0.9% to 1% in 2020 to fund further and higher education.



As a result of the change to the minimum wage from 1st February 2020, the Class A employer PRSI threshold will increase from €386 to €395, effective from the 1st February 2020 also.
PARENT'S LEAVE & BENEFIT BILL


The Parent's Leave and Benefit Act 2019 introduces two weeks' paid parents leave for any child born / adopted on or after 1st November 2019, in order to allow working parents to spend more time with their baby or adopted child during the first year.


Parent's Leave is available to both parents and can be taken as a continuous period of two weeks or in two separate one week blocks.
Such leave must be taken within 52 weeks of the birth of the child or in the case of adoption, from the date the child is placed with the employee. In the case of multiple births, a parent will only be able to claim parents leave once.


Where an employee has enough PRSI contributions, they will be entitled to a Parent's Benefit of €245 per week, paid by the Department of Employment and Social Protection (DEASP).


Employers are not obliged to pay an employee while they are on parent's leave, however some employers may choose to 'top up' an employee's pay during the leave period.


Further information on Parent's Leave and Parent's Benefit can be found here