Thesaurus Payroll Manager - Customer Survey Results
Opinions and feedback from our customers matter to us. We love to hear comments and suggestions from users in order to improve our customers' experience. We recently conducted a customer survey to get an insight into what customers think about Thesaurus Payroll Manager and to find out what new features our customers want. We appreciate all the feedback received from this year's survey and would like to say a massive thank you to everyone who took part.
The survey looked at customer satisfaction rates, software performance and customer support. We were delighted to discover that the customer satisfaction rate for our payroll software has remained at its exceptional 99%. The satisfaction rate for the customer support offered has also kept its 99% satisfaction rate.
One of the most common suggestions from this year's survey was for the ability to reverse the payroll for individual employees rather than having to re-input the payroll for all employees. We are delighted to confirm that Thesaurus Payroll Manager 2019 will allow you to make corrections to previous pay periods for individual employees.
Thesaurus Connect
The survey also included some questions regarding our optional cloud add-on, Thesaurus Connect. With an overall satisfaction rate of 91%, customers rated Thesaurus Connect's features highly, including the secure online backup (99%), payslip & P60 online accessibility (98%), HR document upload (98%), value/price (97%) and its ability to reduce payroll administration tasks (90%).
Watch this short video for an overview of how Thesaurus Connect can meet your payroll and HR needs.
PAYE Modernisation
This year's survey also looked at PAYE Modernisation. With the introduction of this new system just three months away, we were surprised to find out that almost 7% of employers said that they were not aware of the upcoming changes.
When looking at the question 'Do you feel prepared for the introduction of PAYE Modernisation?', the results were also quite worrying. Just 2% of employers said that they felt extremely prepared, while a massive 32% said they felt not at all prepared.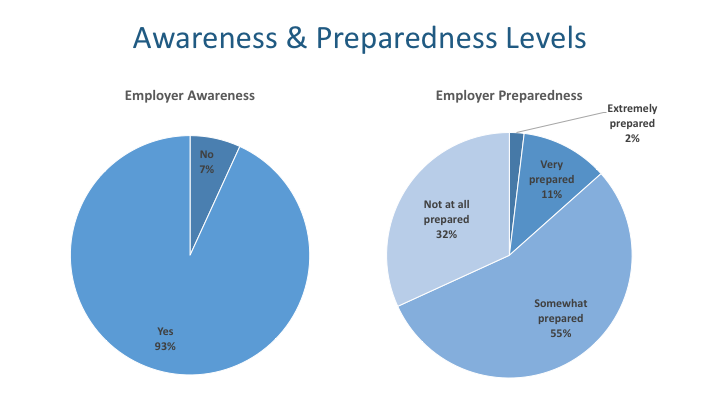 It is important that all employers understand the new PAYE changes being implemented. We are running a series of free PAYE Modernisation training webinars with a guest speaker from Revenue. Make sure to book your place now.
Alternatively, you can book an online PAYE Modernisation demo with Thesaurus Payroll Manager to find out what the software will look like in 2019.


Related Articles: