EWSS - Overview

The Employment Wage Subsidy Scheme (EWSS) replaces the Temporary Wage Subsidy Scheme (TWSS) from September 1st 2020.

Comprehensive Revenue guidance has now been published with regard to the operation of the Employment Wage Subsidy Scheme which can be accessed here.


Please find below an overview with regard to how the scheme is to operate and to help you prepare for it should you choose to avail of it.


Employment Wage Subsidy Scheme - Overview
The scheme provides a flat-rate subsidy to qualifying employers based on the number of paid and eligible employees on the employer's payroll. The scheme is expected to operate until 31st March 2021


Eligible employers will be required to register for the EWSS via ROS, registration has been available since August 18th.


Employers must hold up to date tax clearance to register for the scheme and receive the subsidy payments.


Employers must be able to demonstrate that their turnover or customer orders between 1st July and 31st December 2020 have suffered at least a 30% reduction as a result of Covid-19. Further information on the qualifying criteria can be found here


Registered childcare providers can avail of the EWSS without the requirement to meet the 30% reduction in turnover or customer orders.


Employers must review their eligibility status on the last day of every month to ensure they continue to meet the eligibility criteria, if they no longer qualify they should deregister for EWSS with effect from the following day (1st of the month).


The Temporary Wage Subsidy Scheme (TWSS) will cease on August 31st 2020.
Subsidy Payment:


The rate of subsidy provided under the Employment Wage Subsidy Scheme (EWSS) has been revised to better support businesses dealing with Covid-19 Level 5 restrictions.
Broadly, the EWSS rates will be aligned with the rates of payment under the PUP. The following revised rates are effective from the next payroll date after October 19th 2020, they will revert to the previous rates from February 1st 2021.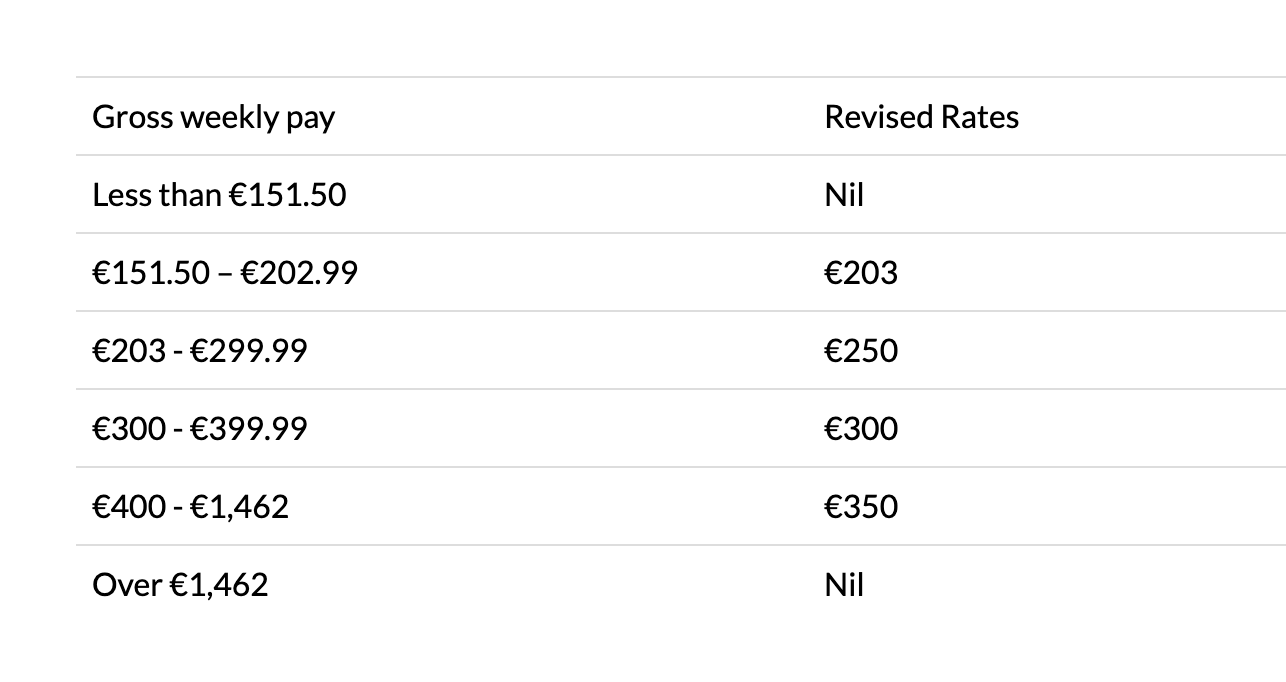 Please note: gross pay includes notional pay and is before any deductions for pension, salary sacrifice etc.
Payroll:
Under the EWSS, employers will be required to pay employees in the normal manner i.e. calculating and deducting Income Tax, USC and employee PRSI through the payroll.


EWSS is a subsidy paid to an employer, it will not show on payslips or in myAccount.
Employer PRSI
A 0.5% rate of employers PRSI will continue to apply for employments that are eligible for the subsidy, this is expected to work as follows:
PRSI will be calculated as normal via payroll e.g. on PRSI class A1.


Revenue will calculate a PRSI credit by calculating the difference between the rate on the normal class and the 0.5%.


The credit will show on the Statement of Account to reduce the employer's liability to Revenue.
EWSS - July/August 2020

TWSS and EWSS will run in parallel from 1st July to 31st August, employees already on TWSS must remain on TWSS until the end of August. Employers wishing to operate the scheme from July 1st i.e. for employees not eligible for TWSS, should process the payroll for these employees in the normal manner and Revenue will review these cases at a later date and refund the subsidy due.
Revenue plan to cater for this via myEnquiries, this will require employers to provide Revenue with the employee details etc. Payment should be made to employers in September.
Publication
A list of employers availing of EWSS will be published in January 2021 and April 2021 to www.revenue.ie
Software Upgrade (to cater for EWSS)

An upgrade for Thesaurus Payroll Manager to cater for the Employment Wage Subsidy Scheme (EWSS) has now been released.

To view guidance on how to operate EWSS within Thesaurus Payroll Manager, please click here.