Computational Anomaly
Using the PRSI and USC thresholds being applied to an employee's Gross Pay, the software will identify where possible changes to the Gross Pay will result in a more beneficial Net Pay to the employee, i.e. where a reduction in Gross pay will result in an increase in Net Pay.

The anomaly is a result of an increase in Gross Pay being so marginal that it forces the employee's salary into a higher threshold of PRSI and/or USC.


Where this is detected by the software, a calculation screen will be presented to the user providing a comparison between the current computation and the computation that would pertain if the Gross Pay was reduced to result in a lower PRSI and / or USC threshold.

Please note: the Gross Pay prompted within this computational anomaly refers to the "Taxable Gross Pay" after Pension Deductions. In addition, PRSI Class B, C, D and H anomalies are ignored.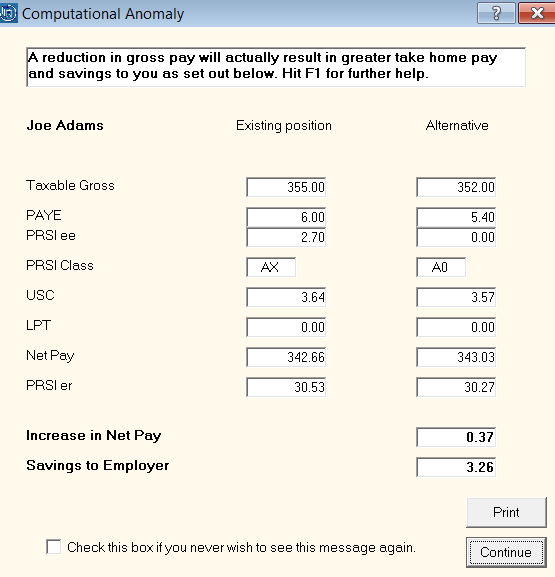 Please note: The identification of this anomaly by the payroll program is merely an information aid to the user. Any amendments made to an employee's salary is the responsibility of the Employer.
If you have any queries in relation to this recalculation you should consult your Accountant / Tax Advisor.