Disabling/Editing Employee Access to Self Service
You can enable or disable access to Employee Self Service and set/change the email address for each employee at any time using your Thesaurus Payroll Manager software.


1) Within your Thesaurus Payroll Manager software, open the company you require.


2) Go to > 'Employees' > 'Add/Amend Employees' and select the employee from the drop down menu.


3) Under Personal Details, amend the employee's email address under 'Details for payslip emailing' if you wish to simply edit their email address or access to self service.


4) To disable self service access for the employee, untick the box to indicate the employee does not have access to Thesaurus Connect: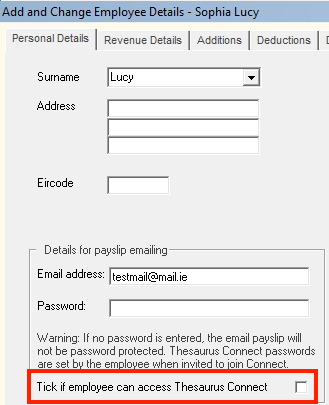 5) Click 'Update' on completion.


6) Now synchronise your employer to Thesaurus Connect for your changes to take effect via Process Icon No. 9 or 'Connect > Synchronise Employer'.