Connecting an Employer to Thesaurus Connect
The following instructions assume you have already registered an account with Thesaurus Connect. Help with the registration process is included here.

1) Within your Payroll Manager software, open the company you wish to connect and click Connect > Control Panel on the menu bar: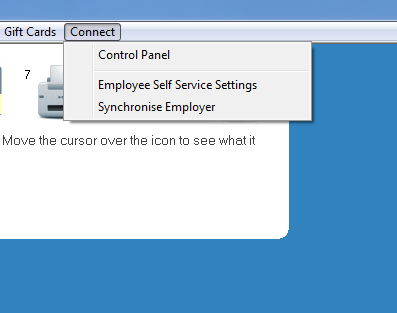 2) Enter your Thesaurus Connect login details (email address and password) and click 'Sign In':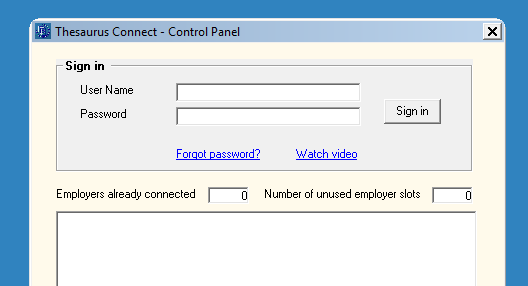 3) Once signed in, close this screen. You are now ready to connect the employer to Thesaurus Connect.



4) Next, click 'Connect > Synchronise Employer' or click Process Icon No.9: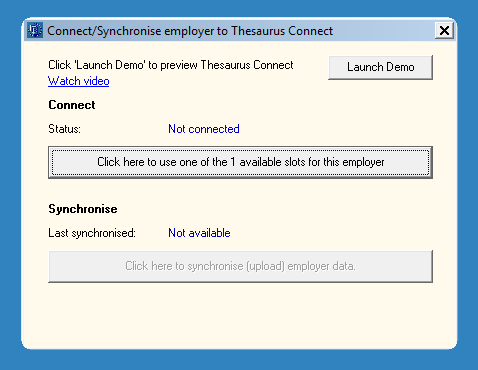 5) Press the button 'Click here to use one of the available slots for this employer' to begin the connection process.


6) Once the employer has connected, you will receive the on screen message 'Employer synchronised successfully'. Click 'OK'.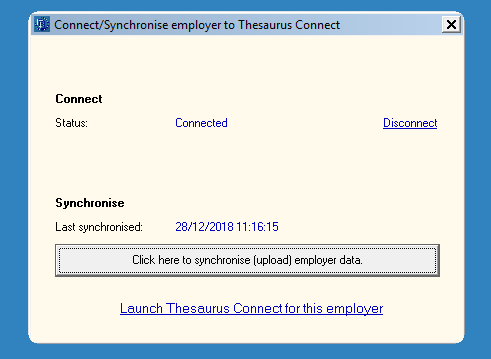 The 'status' of the employer will now change to 'Connected'.


7) To access Connect from this screen, simply click 'Launch Thesaurus Connect for this employer'.



To connect another employer file for which you have purchased a subscription, simply open the company in Thesaurus Payroll Manager and repeat the connection process above.