Deleting a block of transactions
PLEASE NOTE: THIS CAN ONLY BE USED TO DELETE A BLOCK OF ENTRIES FROM THE START OF THE DAYBOOK TO A SELECTED TRANSACTION OR FROM A SELECTED TRANSACTION TO THE END OF THE DAYBOOK.
FILE > DAYBOOK AND CORRECTIONS
N.B. Leave the transactions date range blank
Click OK to run the listing of transactions
To delete from a chosen transaction to the end transaction OR to delete from the chosen transaction to the first transaction in the list.
Click on the transaction from which you want to delete and press function key click F6
The following box appears: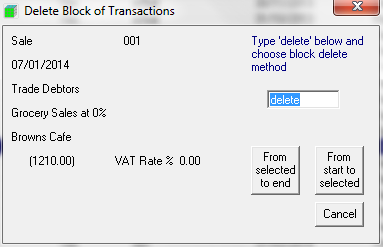 Type "delete" in the box and chose "From selected to end" or "From start to selected"